The last few weeks have been full of a bunch of challenges - a sick cat being the number one concern but he seems to be on the mend.
In the photography world, I finally had the chance to work with Ann Teak. We've been chatting about it for a couple of years and through the pandemic times. And those pictures were just so marvelous and genuine that I could not have hoped for more. The location was quite a trek due to recent flooding and I think we walked almost 2 kms just to get to the clothing optional beach. A forced march that was well worth it in the end. I can't post nude images on most to the popular platforms and don't like social media for the most part, so below is a sample. I'm hoping to have a gallery up soon, but we also shot some film and I'm just waiting for the time to develop.
Ann Teak is just a lovely soul.

The image below was shot in Monochrome (of course still captured in colour in the raw file) but I used Raw Therapee to edit this one and applied a Tri-X 400 film simulation to it. Did it need it? No, but it's good to know it's there. If you didn't know,

Raw Therapee

is a free "Lightroom-like" raw, non-destructive image editor. I'm looking to the future of not paying for subscription software I don't need. And this one runs on Linux, Windows and Mac OS so there's some cost savings. There's a bit of a learning curve but it's worth it in the end.
Hello, it's been a while.
The year has been kind of crazy, specially during the last month. I travelled outside Canada for the first time since 2019 and went to explore, shoot and see friends in the UK. It was like nothing happened (the pandemic that has fallen off the news), but I did come down with a horrible cough and cold while over there. To be expected after all the shut downs and lack of exposure. I did not know this until I returned and tested, but that cough and cold turned out to be Covid, though I can only imagine a mild case which was corroborated by the faded confirmation line on the tester. It did not slow me down, but did stop me from vlogging for my new YouTube Channel which was disappointing as I was going to do a bunch of that while in London. I'm now considering how to revisit the vlog and have some ideas, though not nearly as exciting than travelling to the UK. We will see how that goes.
I have been shooting of late; once in the UK and once in Canada since so that's been refreshing meeting some new folk with whom to work and both really lovely and talented people. There are some more in the works later this month and in August. Just busy enough :)
Both of these were shot in the 'Londons', or as Jimmy Carr hilariously said, the one to the right in "proper London".
I've also been following the release of the Leica Q3 as well, which is something I'm considering provided I win a lottery. It's a fascinating camera and so horribly expensive I will likely never get one, but nonetheless it is on my want list. 
Strangely, I see some respectable street photographers on YouTube who have bought it, then proceeded to shoot with their original Leica Qs just after praising the Q3. Are we pixel peeping too much? Is not your current version good enough? I do understand they age, but if they still work, they still work. 
Its brought up some thoughts in me about how we consume relentlessly and upgrade to the next version when we may not really have a need. I still use the original M1 Mac mini for editing and an older BenQ SW240 monitor bought used after years of subsequent releases at higher resolutions. Still, I'm guilty as well at times, so its more an observation of all of us.
In my perpetual mission to be off the grid as much as possible, 2023 is turning into a year that includes different ways of doing things with my photo work.
Recently, I invested in a NAS for home. Previous to this, I used services like onedrive, google drive and drop box to share images of shoots with models and others, or to just store archives at least for short periods of time. It was useful and convenient. But realistically, I don't really have a great deal of trust in those services since they're provided largely by the same corporations that track us relentlessly - you know the story about my feelings for social media, so I won't go into that again. Suffice it to say that this is great opportunity to free myself of more areas of dependence on those services and service providers.
Not only will I be able to upload shoots to the NAS remotely when I travel, from virtually any Internet connection, but I will be able to share those items directly from the NAS when I need to in the future.
All of this has been alarmingly easy and relatively inexpensive.
I will be tripping to the UK this summer and have arranged some shoots in London and in the Midlands (the latter where I will be for most of the trip), so I'm looking forward to putting this into some real-time action.
I've found out recently that Pentax will be getting back into the film camera business. I think that's a brilliant idea considering the renewed interest in film that doesn't appear to be abating.
My 2023 will be include a lot more film so the announcement has been quire apropos.
A new film camera? There is not much to know at this stage, and I assume anything Pentax comes up with will be costly as they are re-entering what is now a unique (almost fringe) market.
But these can once again be exciting times. Until then, below is some Dorrie from March of 2022.
I hope everyone has a great Christmas. If you're in North America, I also hope it's safe and you've found shelter from this 'storm of a generation' that doesn't seem to be letting up.
Just had a great trip to Ohio to see a friend I've not seen for a few years

mainly because of th

e pan

demic and worry over what that may entail for myself being immune-suppressed. As a lover of travel and in-person conn

ections, it was cathartic, and has re-invigorated me with a sense of purpose. Too much to go on about really, but being able to see people you respect and love, well it's just everything.  Visit her on Patreon if you wish, it's worth it: Jacs Fishburne at:
 https://www.patreon.com/jacsfishburne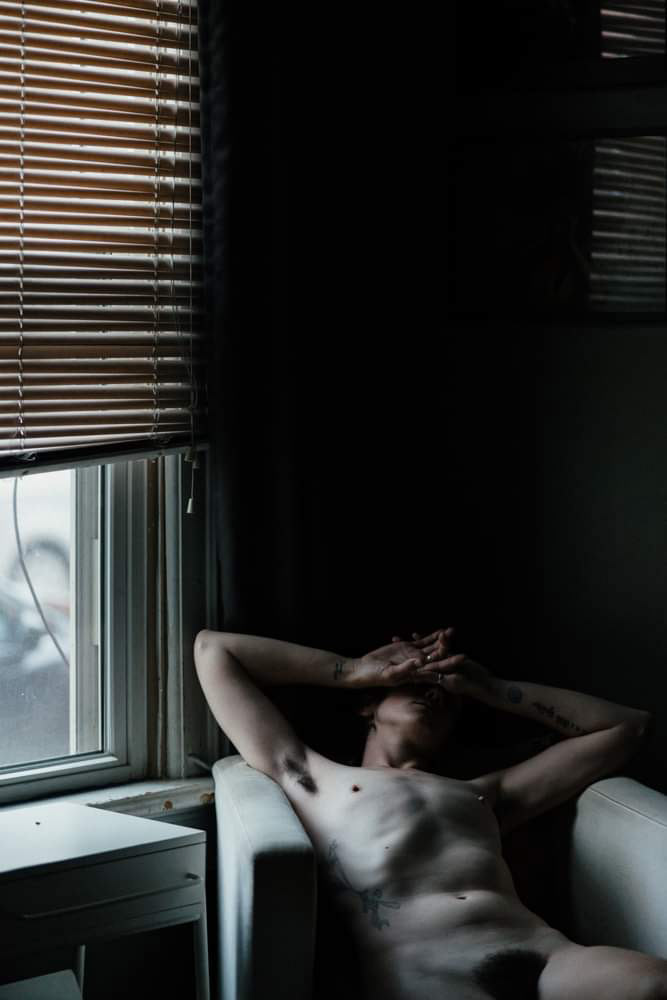 So many good points in this video about not just Insta but all of the digital life-styles platforms. I only have a Twitter now. I can walk away from it when I want which is how it should be.
The odd things I've noticed since I quit is that you do feel cut-off from things initially, but over time you realize it's a closed circle. There's the online world and then there's the real world. I feel more creative and more in charge and more focused. I've started reading again and am more engaged. This has taken weeks.
You definitely realize how little you see people once you quit the big platforms  and it's stunning how much you realize just how much of slave you've been to those platforms and their relentless feeds.
Whomever and wherever you are, look to breaking those ties. It's just not worth the time and effort. Write letters, text or email someone. Visit. See them in person. You will thank yourself down the road. And from a photography perspective, it matters more than anything.
This will be my last entry about social media. Future ones will be about what I love best. Taking pictures and stealing souls ;)
One of the most precious things I've realized since I quit most social media, is that the times together in person are significantly more meaningful. The hugs are deeper and longer and the gratefulness is as it was since before social media.
Social has faked us out into thinking that it is the same thing. It is not. We've just collectively become so accustomed to it that we forget what the realities of friendship are like when you are in someone else's presence.
I'd rather be addicted to in person contact, even needful for it, than other forms. It's really hard to measure or put it into words.
Recently, with Lisa in the dead forest <3
I had a wonderful morning with Livi last week in a forest with a lot of joy. I worked entirely with the Nikon z7 and both the Nikon 35mm f1.8 and the Viltrox 85mm f1.8.

I have a feeling I'm moving entirely to Nikon, though Fuji still has a place in my heart. There's just something about the Nikon...
I will definitely be creating a new gallery on the site over the next week or so.
I've killed Instagram today. It's not about photography and it's not even about sharing anymore, in a real sense. It became more about relentless, habitual sharing of ego and the horrors of the world - for the most part anyway. Just not a nice place to be anymore.
I'll miss posts from friends and such, but my lord, I used to spend 3 hours a day on social media and media in general. Now, I'm down to 25 minutes.
That's a good place to be.
I will say it was difficult. There's a horrible sense of disconnection after, but when that connection itself becomes another form of disconnection due to the habitual de-personalization of it all where we relentlessly post everything and anything, then it's time to move on from it.
So after many years of being on social media for getting some work here and there, meeting interesting people and staying in touch with friends and artists alike, I'm basically giving it all up. Facebook died about 3 months ago and Instagram will die this coming week. It will die on a Monday.
The death of a thousand cuts.
There are a lot of reasons for it.
The main one is that it's just a terrible way to live your day to day experience for the obvious 'addictive nature of the service' reasons. But beyond that, I've found that since the pandemic (more or less) ended, you're either engaged on it or you're not. And many now seem to be so dis-engaged from it, even from reponding to messages in any kind of timely way, that it's just become a constant frustration of waiting and wondering about follow-up.
Perhaps in part its the bad habits of social media caused by the negative impact it has on mental health. The idea you don't have to respond immediately (and you don't and I'm a big believer in that) but geez, will you ever? That's the point where it just becomes ignorant.
Of course, you could just go on with life, but then it's just impossible to plan things and you become stuck in this never ending cycle of time wasting away.
I don't control time. None of us do. But we do know we have a limited supply and we shouldn't spend it waiting.
I've never been a fan of social media and now less so. So enough of that. Time to get off the horse.
And if that's not enough, given that the owners of Instagram have come out and defacto stated that they don't like photographers, and seem to be infinitely deleting accounts they don't like, what is the point of it? Endless reels? That's just another way to addict you by design.
So going forward, I'll maintain my Twitter just because I don't have to censor posts, my Ello because its somewhat of an anti-Instagram and doesn't have any real engagement nor commercials, and my website.
I'll be blogging more and more about shoots and what I'm doing with photography and life in general on here than anywhere. I have complete control over this domain.
So there you have it. Not every reason, but the main ones in a nutshell. It's become a circus of performance over real connections.
I watched something very interesting recently. It was a NHK Tokyo documentary on Japanese aesthetics.
I'll be more forthcoming - it was very lovely and inspiring. So much so I found the essay on which it was based on by the same name, by Jun'ichirō Tanizaki.
If you're a photographer, it's well worth your time.
The test copy of the new book arrives June 1 and I'm pretty excited to see something like this again.
The last time I did a book was in 2010, called Variations published via Blurb. I can't believe it was 12 years ago.
I think the title of the new book says it all, but here's a tease image :)
Finally lauched by Print Shop on the site.
I'm not overly concerned if I don't sell them, the thought being that I've met some thoroughly amazing artists/women over the years and the experience of creating art with them is more than payment enough for my own creative sake. And it's nice to know I've helped some be more confident in themselves at the same time.
But wouldn't it be nice to have some of my art (and theirs) hanging on a wall somewhere? Sure, why not.
It's been a while since I've mused.
The reason I'm doing this now is I'm venturing into a sort of experiment. Mainly to answer the question of 'does reducing or cutting off your media consumption improve your ability to both concentrate and create'. In a way, does it make you MORE creative, or by reducing the amount you consume of others creativity, does it bring back something that was lost? Is there a balance?
Realistically, we live in a digitally driven world. Not a day goes by that I don't miss the days where the Internet was a pimple and we all just got together and didn't share every...single...detail. I'm not opposed to sharing online, but I am opposed to the effect it has on our thinking and creativity, and how we relate to one another. How many images did I consume today? How many feeds did I view without even thinking? Did I like that, or did I really, really LIKE that. What does it mean for our personal connections - the meat and bones of what it means to be human?
Not sure if this experiment will play out as intended. We're all different in how we consume and react to things, but after seeing the scans of a person's brain activity before and one week after they stopped using social media, I was both intrigued and utterly stunned. Granted, the pandemic made it impossible for two years to have a 'normal life' but there's a point where I think we need to massively reduce our online consumption.
I'm avoiding feeds like the plague and have reduced most of my media consumption, including news. I'm stilling posting to various places like Twitter because I like sharing, but I'm basically not paying attention to the feed, likes or any other images that would normally get 'a like' or a comment of some sort. On one hand, it's about the art while on the other it's all about the connection to create the art. It's why I never did a remote shoot. There's just absolutely no feeling to it, no embracing of the moment. It's just seemed like so much desperation.
It's nothing personal. I do like seeing what my friends and other artists are up to. 
What more can I say, I crave a time when prints and books were more meaningful than a soundbite, a fleeting image amongst millions of other fleeting images and solid meaningful, present connections. But I've also had the best of both worlds over the years. I can both pine for the past and relate to the present and future.
But man, that brain scan...
So, big changes compared to my last post, and its a good thing.
After months of running in circles over the Fujifilm 50s II and looking particularly at affordability, and losing all of my previous gear in exchange for one camera, something interesting happened.
I was browsing for something on the Henry's site (a Canadian retail photography store) and while I can't recall what I was looking for at the time, a search brought up a cascade of these used Nikon cameras. Lo and behold, I noticed a Nikon Z7 rated a 9, which for a used product 3 years old, is astonishingly good. It included the Nikon 24-70 F4. All was at literally half the price as new. So, I took a chance and within 30 minutes had ordered it. I'm glad I did. Upon receiving it, it felt like a beefed up Z5 (but I guess you could also say the Z5 was a dumbed down Z7) so I was instantly comfortable and pretty excited to get a camera near the resolution of the 50s II and with comparable image quality based on all the reviews along with a fantast DxO rating on the censor. So I took about 30 pictures and decided to do a shutter count out of curiosity. In total, the shutter count read 109. I could not believe it. Minus my 30 or so cat pictures, the previous owner had only taken about 75 pictures before selling it. I have to tell you, the condition was no lie. It is pristine and once I realized the shutter count was so low, I basically had purchased the equivalent of an open box for half the price!
In the end, I get to keep all my beloved Fuji gear but have sold the Z5 to another photographer who needed something new.
And its also a good thing as I did end up handling the Fuji 50s II in-store and while its an amazing camera to handle and even walk around with (though its near medium format and faily sizeable), there was just something I did not like about the viewfinder. A lemon? Probably as Fuji is known for quality, specially if you're spending that much, but given that my purchase would have been delayed even further.
The icing on the cake is that I saved $3000 and won't be indebted for the next year, and have a sutiably comparable new camera and already three lenses so fit it out with the original 24-50mm from the Z5 the photographer did not want, the 35mm f1.8 and the new-to-me 24-70mm F4.
Today has been my birthday and 10 days ago I put to rest my beloved Crowley.
I've had Crowley's ashes back for about 5 or 6 days now and I think the things I miss most are the routines around which I lived with two cats for 15 years. My brother's in arms. Having only one now has changed things to a great degree. Aziraphale gets my attention in the morning by meowing incessantly for food whereas Crowley used to hop up on the bed and paw my forhead ever so gently. And that's just one thing. I will miss him for about forever. But such is life and it all goes on.
About photography though, I've made some pretty major decisions about my technical direction. Some may already know this means a new camera and they would be right. Over the years I've dreamed of using medium format digital exclusively, but its always been too expensive. Even a body only would cost $8000 CAD and up. But no more now that Fujifilm has released the 50s II, with a lens, for a nominal $6300 CAD with tax. So my plan in the coming weeks to unload all my APC-C Fujifilm cameras and lenses, and probably even my recently purchased Nikon Z5 and the lens and adapter, along with my laptop. All in, I'm guessing I will cover half the cost of the new MF Fujifilm.
I'm partly looking for both a new challenge and simplification, but also the obvious advantages of medium format and that larger sensor. I had for a time also considered Leica. The only issue with Leica is that the Leica I would want (the Leica Q2) is 2k more with a fixed lens, so that was out immediatley when I learned of the Fujifilm 50s II. And anything interchangeable with Leica, then you're talking $10k and up. Is it worth it? I have my doubts, and full frame vs medium format when the second is $2k less out of the box AND I can change lenses down the road? Its an obvious choice.
So in the end, I get to stay with familiar Fujifilm and finally fulfill the dream of medium format AND I get to simplify EVERYTHING with one body and one lens (with an option to get a prime at some point). Hilariously though, Fujifilm is oft times seen as the poor man's Leica and I can only confirm that in my case, how true that is after taking care of a sick cat for the past few months.
RIP Crowley. Thanks for letting me be your buddy for 15 long years.
Currently trying out the express version of Capture One for Nikon. I've used Capture One Pro before with Fuji for one year, and thoroughly enjoyed it but found it very pricey compared to the value offerings of an Adobe subscription for only about $15.00 CAD a month vs, Capture One for $25 CAD a month. With A

dobe, we get the websit

e tools and Behance + Photoshop (though I hardly use it) and some other apps with fairly good integration between them. Having said that, I just answered a questionairre from Capture One with some questions regarding cost and how much you would pay for Capture One to make it "affordable". I said $9.99 a month, which I think is fair considering you don't nearly get the breadth of value as Adobe offers. I would probably use Capture One for that price, but continue to subscribe to Adobe for the other benefits.
Anyway, it got me thinking about how obessed many of us are with editing after the fact. This preset vs this style; this platform vs that platform. Its true that whatever your camera, its not going to do everything you want it to do in keeping with what you had in your minds eye. Hardly ever. No matter how close it may come, you'll always want to tweek that or tweek this in some way.
So here's my friend Lisa, also a documentary photographer in her own right, sitting in a heart shaped tub with a tweek this and tweek that, and maybe a style applied. Why? I don't know, nothing really wrong with the original except just something, something...
And another great day at the beach with the Nikon Z5 and the Minolta

with some film. The f

ilm is not developed yet, but will do that tomorrow. This one is fro

m the Nikon.
More trips planned until the warm weather runs out.
Everytime I take someone to the clothing optional beach to shoot or just hang out, it turns into a 'no one wants to leave' experience and that makes me happy. It really is a liberation for both myself and whomever I'm with.
Its August and thought I'd share a youtube vid about sharing, and more about how you don't need to share everything you do. I found myself very much in agreement. Here's a great vid from The Photographic Eye on Youtube that hits the nail on the head.
Another update for July, likely the last for this month.
Managed to obtain a new camera bag. Doesn't sound like much, but it affords me the opportunity to carry both the Nikon Z5 and Fuji X-e4 plus 5 lenses with 2 attached to each camera, in a suprisingly small package. It also allows for other bits and bobs. I have an affinity for Roots camera bags, and this one is part of the 'Roots 73' Collection. Just the right size, though its not weather proofed, its a very easy carry.
It also fits an 8 inch tablet if that's your cup of tea. It's specifically the
Roots 73 Uptown Digital SLR Camera Bag

, if you're in need. Usually available from Best Buy or Henry's in Canada.
July 2021 - Instagram vs Ello
I have a bunch of thoughts since I stopped using Instagram for the second time and started using Ello. Mainly that it is pretty freeing, but I won't go beyond that as its a moot point and its not like people will suddenly make the switch from the evil machine, lol.
Did I mention Ello has no ads nor censorship? ;)
In other news more photographically aligned, I recently picked up the 35mm Nikkor 1.8s. It is likely the only lens I will ever need for the Nikon in consideration of what I do and how I do it.
Keeping it as simple as possible.
You can now find me posting to Ello at

ello.co/christm
which I favour

over Instagram.
I'm a Fuji lover primarily, for all

the same

reasons most Fuji lovers are - a more engaging and manual experience looking back to the days of film.
However, I'm also a newly minted Nikon user as well, at least digitally.
Primarily, I use the FujiFilm x-e3, X-e4 as they are easy to travel with, and the Nikon z5. I opted for a nikon z5 as it's much more stills focused and full frame, and Fuji has decided not to pursue full frame at this time.
For my film work, its mainly various Minolta 35mms and a Mamiya 645 Super.